My persistence (read obsession) finally paid off. Here is the elusive Alstonia scholaris in bloom. It is a bit earlier than I thought. This is not the same tree as the one I showed previously. It is the second such tree in the Fairchild Tropical Botanic Garden and it is a lot bigger than the one referenced above. This tree has a large number of flower clusters, many of which not yet opened because it is still early. There is a small branch so loaded with flower clusters that it brushes the ground as seen on the left side of this photo. The ground is littered with the small milky white flowers (see insert) that steadily drop like raindrops in slow motion. This tree is nicknamed the "Devil" tree in India, but its Vietnamese name of "Milk Flower" tree is much more romantic, and it figures prominently in Vietnamese Northern literature. Many a love blossomed (some died) under this Alstonia species, which prompted me to see what kind of magic it harbors. My task is still unfinished because I need to see when this tree is going to live up to the reputation of its powerful nightly Proustian scent. I can tell you that is not going to be an easy task because I have to figure out how to come in here at nights when it will be pitch-black. If lucky, I can smell my way to this tree. If I wait for moonlit nights, it will be eery and I am afraid to run into ghostly creatures. What to do? What to do?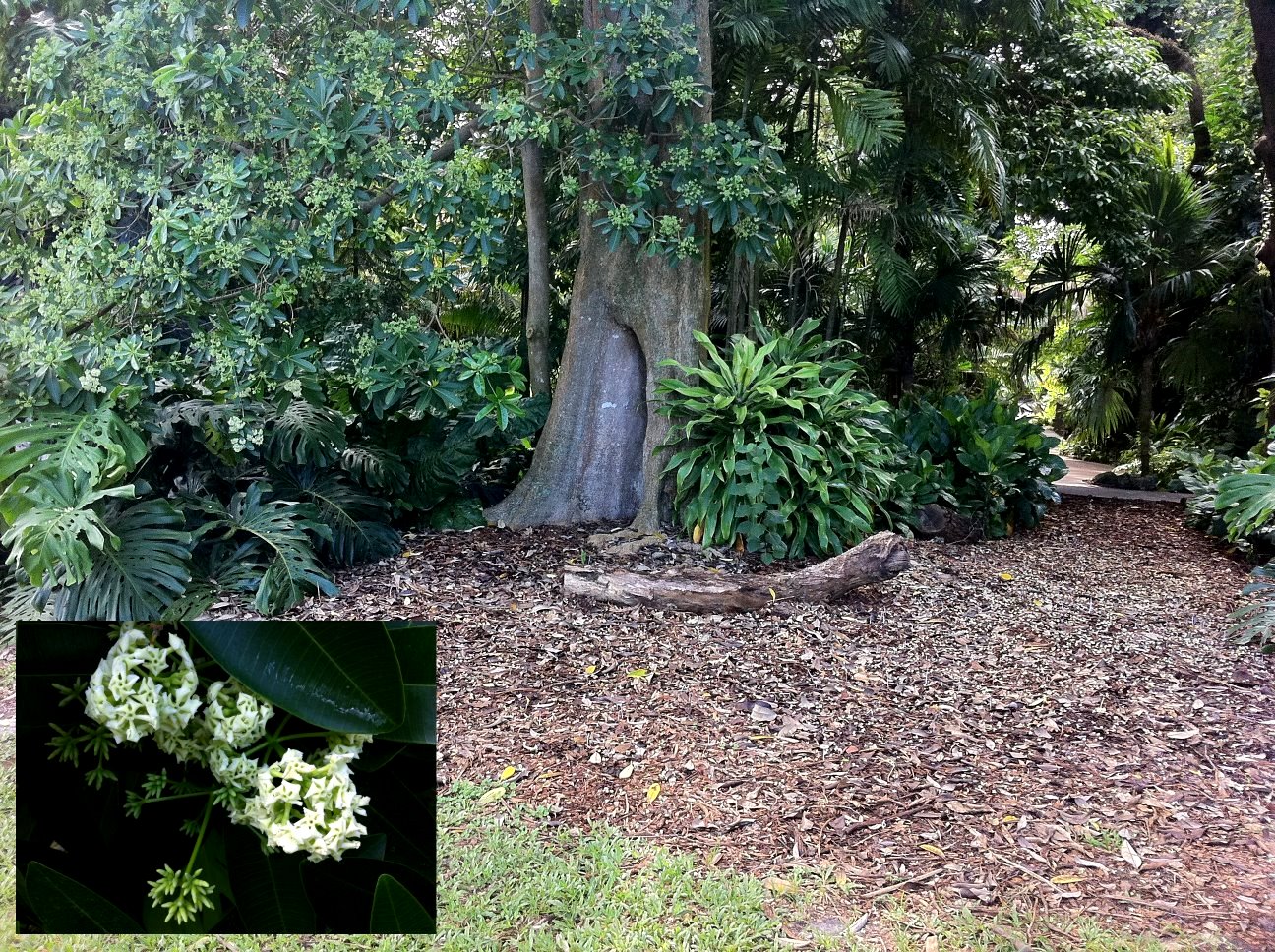 Click on the player to hear a Vietnamese song serenading in a sad way the "Hoa Sua" of the Alstonia scholaris. The vocalist is a North Vietnamese singer named Thanh-Lam. She is heart broken and saying...

"I have been waiting for you... like the flowers awaiting the sun...like the wind searching for the Casuarina equisetifolia (Australian Pine... sorry to be so darn technical, but that's what the words say, kind of ruining the poetic flow!) .. like the firmament awaiting the white clouds... You have been waiting for me... in the familiar streets... with moving songs echoing... and sweet scent permeating the air... Memories of bygone days... Still lingering here and there... of our shared friends... of the narrow streets... The nightly sweet milk flowers' scent still fills the streets... Is it possible that you have forgotten me... Is it possible that you have forgotten me?"